Do you ever come across people that open up your world? People whose perspectives are so insightful, you wish you'd had them first?
Clayton Christensen, a Harvard professor best known for his theories on disruption and innovation, is one such person.
Christensen developed the 'Jobs-to-be-done' concept, which gets to the heart of why companies experience disappointing results from product innovation and marketing, despite a deluge of consumer data. Put simply, consumers 'hire' products to perform a 'job' which solves a specific problem or need. Customer data – particularly the 'who' and the 'what' – can be sliced and diced in infinite combinations and correlations, but it cannot answer the 'why' of the Job-to-be-done.
Christensen illustrates the principle using McDonalds as a real-world case study, in which his team played a consulting role. McDonalds wanted to sell more milkshakes, but was experiencing limited success, despite knowing a great deal about their customers. After studying and talking to McDonalds milkshake drinkers, Christensen's team developed an understanding of the job those customers were hiring their milkshakes to do:
"I have a long and boring drive to work and I need something to keep me engaged with life while I'm driving my car. I'm not hungry yet, but I will be by 10am, so I need something that will keep me full until then."
As a result of this insight, McDonalds made changes which contributed to a fourfold rise in milkshake sales. For more depth, interested readers can watch Christensen discussing the case study (click on the image below for the 5-minute video):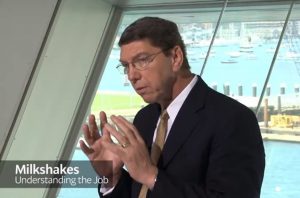 Jobs-to-be-done provides a useful framework for thinking about developments in one of my favourite areas of the market: Media.
Endgame vs Aniston
Disney has had a stellar run at the box office for a number of years, with its Marvel and Star Wars franchises leading the charge. Avengers: Endgame is on track to surpass Avatar as the highest grossing film of all time.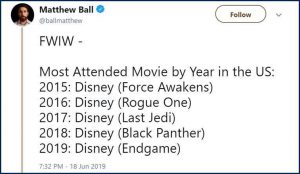 Disney's dominance is also reflected in box-office receipts this year (BV = Buena Vista = Disney):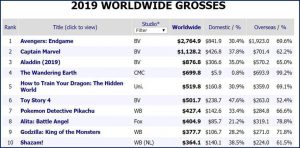 Interestingly, this dynamic is occurring in an environment where people are watching fewer films in theatres (in North America):
Film tickets sold per person p.a. (US and Canada, P2+), mn :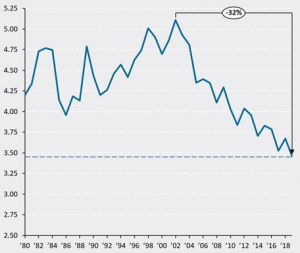 Source: MPAA, Box Office Mojo, US Census Bureau, Statistics Canada, @BallMatthew
The big screen is becoming the exclusive domain of films that are high-cost, low-risk, (relatively) low common denominator and easy travelling (i.e. popular in China) – blockbusters, franchises and sequels. That doesn't leave much room for films that don't meet these criteria.
This is where Netflix comes in.
Netflix has been releasing a steady stream of its own, made-for-Netflix films. These include lesser known actors (Ali Wong and Randall Park in Always be my Maybe) better-known actors (Rebel Wilson, Adam Devine and Liam Hemsworth in Isn't it Romantic) and A-listers (Jennifer Aniston and Adam Sandler in Murder Mystery, Sandra Bullock in Bird Box, Ben Affleck in Triple Frontier).
A lot of people are watching these films: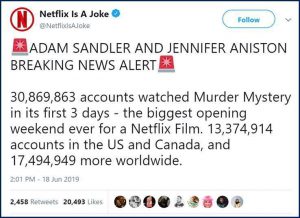 These are the types of films that are no longer commercially viable in a Disney dominated box office. Which is different from saying consumers don't want to watch them. Bear in mind that Disney and Netflix are serving different consumer needs. Disney's audiences demand a premium, differentiated entertainment experience, and are prepared to pay up for that experience a few times a year. By contrast, Netflix's offering is more generic and only has to be 'good enough' to satisfy consumers looking for a non-taxing activity to fill 2 hours (i.e. 'vegging'). Importantly, the consumer's mindset is different in each instance – active/intent driven (Disney) vs passive/responsive (at least for Netflix's films. Series are likely more intent driven).
The Netflix films mentioned above were mostly produced by Netflix itself (with minor caveats). For the first time, I noticed that the recently released Shaft film with Samuel L. Jackson was produced by Warner Brothers but is still labelled as a 'Netflix film'. If this is the start of a trend among the major studios, then the bifurcation in the market is likely to accelerate. It will also solidify Netflix's competitive position in streaming.
This is a world where both Disney and Netflix can succeed, because they serve different consumer needs with different products and value propositions. In other words, we hire Disney and Netflix for different Jobs-to-be-done.
Lessons from Forky
A few weeks ago, I watched Toy Story 4 with my wife and three young children. I thought it was excellent, with outstanding storytelling and all the ingredients of a classic Pixar film. The latest character is Forky, Bonnie's pre-school spork (spoon-fork) creation that magically comes to life. Forky is a brilliantly creative, unorthodox character.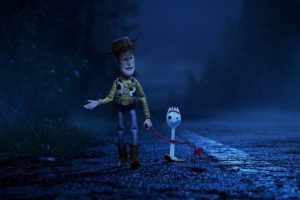 Last weekend, we watched Wonder Park (Paramount/Nickelodeon) and like so many animated films it was…okay…fairly entertaining but not particularly memorable. One would think that Pixar would be easy to emulate. Wonder Park has the usual elements: high-quality animation, cute human and animal characters, jokes for kids, jokes for adults, emotion, and an important life lesson. Despite ticking all the boxes, Wonder Park is missing the 'magic' that Pixar is able to conjure.
I can't adequately define or describe just what that magic is, which is partially what makes it magic in the first place. What it very clearly isn't, is the result of a formula, checklist or process. Magic doesn't come from shortcuts or the superficial, but from the deep. The fact that copycat films adopt a formulaic approach is precisely their problem and why they miss the mark altogether. Perhaps these studios view their Job-to-be-done as 'To entertain children and their parents for 2 hours'. One can infer an altogether unique Job-to-be-done from the perspective of Pixar's co-founder, John Lasseter: "We make the kind of movies we like to watch. I love to laugh. I love to be amazed by how beautiful it is. But I also love to be moved to tears. There's lots of heart in our films."
While writing this piece, I serendipitously came across the following passage, from the book 'Alchemy: The Dark Art and Curious Science of Creating Magic in Brands, Business, and Life' by Rory Sutherland, Vice Chairman of Ogilvy UK:
"The models that dominate all human decision-making today are duly heavy on simplistic logic, and light on magic – a spreadsheet leaves no room for miracles. But what if this approach is wrong? What if, in our quest to recreate the certainty of the laws of physics, we are now too eager to impose the same consistency and certainty in fields where it has no place?"
Increasingly, investors are attempting to codify, quantify, de-humanise and process-ify every aspect of investing. I am a big believer in process, but process cannot create magic, it can only harness it. If milkshakes have taught us anything, it's that in a world obsessed with big data and computing muscle, pursuing magic might just make all the difference.