Data released on Thursday (14 February) revealed that December US retail sales surprisingly declined at its fastest pace in almost a decade in an apparent abrupt change in US consumer spending. It is even more so surprising considering that the data includes the busy US holiday shopping period and previous data from retailers, Adobe Digital Insights etc. had indicated robust November/ December shopping.
The report raised questions around the strength of the US economy since consumer spending accounts for c. two-thirds of that economy. Reuters reports that the data also led to the US 4Q18 GDP growth estimates being cut to below a 2.0% annualised rate. With the record-long 35-day partial government shutdown, the report was delayed, and no date has yet been set for the release of the January data, which was supposed to have been released on Friday (15 February).
According to the latest Commerce Department data US retail sales dropped by 1.2% MoM, the biggest decline since September 2009, when the US economy was coming out of a recession. November retail sales data were also revised slightly lower to a 0.1% MoM rise vs a previously reported 0.2% MoM gain. Reuters consensus economists had forecast a 0.2% MoM rise in December. YoY, December retail sales rose 2.3%. Trading economics writes that US MoM retail sales averaged 0.35% from 1992 until 2018, reaching an all-time high of 6.7% in October 2001 and a record low of -3.90% in November 2008. For 2018, total retail sales rose 5% YoY.
Figure 1: US retail sales, MoM % change: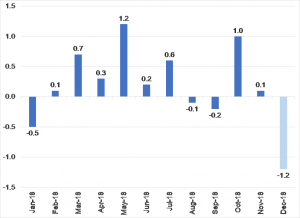 Source: Commerce Department, Trading Economic
Core retail sales (excluding automobiles, gasoline, building materials and food services), dropped 1.7% MoM after November's upwardly revised 1.0% MoM. Core retail sales correspond most closely with the consumer spending component of gross domestic product.
Non-store (online [a usually high-flying segment] and mail-order) retail sales dropped by 3.9% MoM – the biggest decline since November 2008 (in the midst of the global financial crisis) and this after increasing 2.8% MoM in November. Receipts at restaurants and bars fell 0.7% MoM and spending at hobby, musical instrument and book stores plummeted 4.9% MoM – its biggest drop since September 2008. However, sales at auto dealerships rose 1.0 % MoM.
National Retail Federation (NRF) data show that holiday retail sales (the November and December period) can represent as much as 30% of total annual sales for some retailers. The NRF data (also released on Thursday) showed that sales in November grew 5.1% YoY, but in December were up only 0.9% YoY and down 1.5% seasonally adjusted from November. ShopperTrak identifies key days (see Figure 2) as being the busiest of the year in the US, accounting for c. 45% of all shopper traffic over the US holiday season (most of these fall in December).
Figure 2: Top-10 busiest holiday shopping days, 2018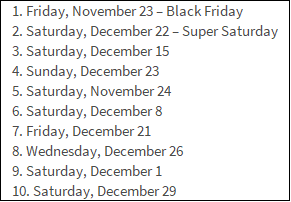 Source: ShopperTrack
Some have questioned the accuracy of the data including White House economic adviser Larry Kudlow, while the NRF said the prolonged government shutdown and a delay in collecting data "made the results less accurate." MarketWatch writes that some economists are "very skeptical" about the numbers highlighting, for example, the reported 3.9% decline in sales among internet retailers. This is despite Amazon, and other internet retailers, posting very strong sales and recording one of the best holiday seasons in years. Walmart on Tuesday (19 February) also showed an impressive 43% YoY rise in its online sales during the busy holiday quarter.
Conversely, some economists have highlighted other factors as possibly playing a role in the disappointing data, including December's stock market plunge, which saw renewed talk of an impending recession. The partial government shutdown also began a few days before Christmas and cold weather struck large parts of the US in December. In addition, the ongoing trade war with China and volatile global markets have been identified as threats to growth. The outlook for consumer spending is also discouraging, with a New York Federal Reserve (Fed) report last week showing that the overall debt shouldered by Americans edged up to a record $13.5trn in 4Q18.
The above-mentioned reasons may eventually be proven correct but in the interim the disheartening December decline in retail sales calls into question the US domestic growth assumption. It also begs the question as to whether the retail sales slowdown in just a blip on the radar or whether it will result in continued weakness in US consumer spending, negatively impacting retail shares such as Amazon, Walmart, Home Depot etc.