Chinese Vice Premier Liu He visits the US today (30 January) and tomorrow (31 January) with a 30-person trade delegation for in-depth discussions on trade with US Treasury Secretary Steven Mnuchin and US Trade Representative Robert Lighthizer. The main aim of the visit is to resolve the current trade dispute impasse between the world's two largest economies by 2 March. That is the date when US President Donald Trump's administration will increase tariffs from 10% to 25% on $200bn worth of Chinese goods. 
The US and China have been engaged in a tit-for-tat trade spat for more than a year, impacting global markets as the standoff between the two behemoths are increasingly raising concern around a slowdown in global economic growth. To date, Trump has imposed tariffs of 10% and 25% on $250bn worth of imported Chinese products, while China has retaliated by imposing its own tariffs (of 5%, 10% and 25%) on $110bn of US goods such as liquefied natural gas (LNG), chemicals, frozen vegetables, food ingredients, soybeans, whiskey, ethanol, motor vehicles etc. The latest Reuters poll of more than 500 economists (taken earlier in January) saw 2019 growth cut for 33 of 46 economies the respondents were asked about and left unchanged for 10 (the forecasts for 3 smaller economies were only slightly upgraded). 
Failure of this week's talks would likely dash hopes of finding a lasting solution to the issue anytime soon. Although many market commentators are optimistic, they also believe that a comprehensive trade agreement will be very difficult to reach between the parties. Key issues include China agreeing to far-reaching "structural" reforms in its trade practices, curbing its massive state intervention in markets and especially the alleged theft of US intellectual property (IP) and technology. Also up for discussion, China's undertaking to "purchase a substantial amount of goods and services from the US", the White House said on Monday (28 January). Trump wants to cut the US' soaring trade deficit with China, which in 2017 hit a record $375bn, excluding trade in services.
US trade deficit with China, 2010-2018, $bn: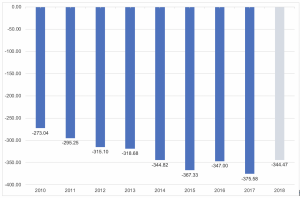 Source: US Bureau of Statistics, Anchor
Note 2018 data reflects the position up to end October 2018
If there are positive developments from the talks, there could be an extension of the 2 March timetable for the imposition of further tariffs. However, the substance of any possible agreements is likely to be far more important for markets than any vague announcements following the talks. A relatively simple win could likely involve seeing China commit to buy specified amounts of US goods by certain target dates, while on China's side, any agreement resulting in the lifting of some or all of the tariffs imposed on its US exports would likely be seen as a win. 
Some political commentators have postulated that Trump (faced with a nervous US stock market, concerns around slowing growth and what can be seen as a concession from his side to the Democrats with the reopening of the government following the shutdown) might even settle for a so-called "light deal" consisting mainly of Chinese purchases and other faint undertakings. However, Trump is unpredictable and has walked away before (in May 2018 when, days after the two countries released a joint statement, he rejected the framework and sent US negotiators back to the drawing board). CNBC also reported earlier this week that two powerful US business groups, the US Chamber of Commerce and the American Chamber of Commerce in China, have called on Trump "to stand by his pledge to press for meaningful reforms."
Meanwhile, Bloomberg reports that the World Trade Organisation (WTO) has launched an investigation into Trump's tariffs on $250bn worth of Chinese goods, and if US duties are in contravention of a requirement that all WTO members give each other the same tariff treatment, as China contends. Nevertheless, Bloomberg writes that "China won't be expecting a resolution to the investigation any time soon due to a backlog in the WTO dispute settlement system." Thus far, around 23 disputes have been brought against the current US administration, including an European Union (EU) inquiry into tariffs levied against aluminum and steel imports.