According to market research firm, Edison Research, Facebook has lost c. 15mn US users since 2017 especially in the younger demographic, although Edison notes that the social media network is still "winning big elsewhere". Calling it "a meaningful drop", Edison writes that the largest declines were counted in the 12-34 age group category, with the decline representing "about 6% of the total US population ages 12 and older,". We highlight that The Verge writes that this is an extrapolated estimate and it doesn't account for people aging out of certain demographics, and for people switching to another popular Facebook-owned product, such as Instagram.
Facebook usage as % of total US population (12 years and older):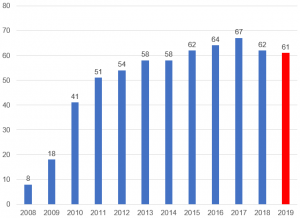 Source: Edison Research
It's likely that Facebook's many privacy and security issues over the past year are to blame for the high number of users leaving. However, Facebook does seem to be winning on the global stage: its monthly active users (MAUs) were up 9% YoY at the end of 2018, with its user base standing at an all-time high of 2.32bn. In addition, Facebook's other major social network, Instagram, has 1bn users currently, including more than 400mn monthly users of its Stories feature. So, it is possible that these US teenagers and millennials are moving from Facebook to Instagram.
MarketWatch reports that Facebook might have a workable plan – CEO Mark Zuckerberg reportedly recently outlined his vision to allow for "interoperability between WhatsApp, Instagram and Messenger" sometime over the next few years – three major messaging platforms that reach billions of people globally.