Apple has scheduled a major event for Monday (25 March). The tech giant is widely expected to introduce new services focusing on video streaming (basically a Netflix rival), a news/ magazine subscription service and possibly an iPhone-connected credit card. Apple's 1Q19 results (released on 29 January), saw iPhone revenue decline c. 15% YoY to $51.98bn. However, with no disclosure of unit sales (its latest earnings results marked the first time Apple did not break down unit sales for the iPhone, iPad, and Mac categories), we were no longer able to see the exact number of iPhones sold (unit sales have been declining). A February report from Bernstein analyst, Toni Sacconaghi highlighted that iPhone sales had dropped by c. 15% during the holiday quarter (1Q19). Sacconaghi also indicated that only c. 16% of iPhones in use "are expected to be upgraded to new models this year."
Apple's share price had been under pressure since October, following a series of disappointing iPhone sales numbers and a lowered revenue outlook from the company at the start of 2019, which dented investor sentiment towards the firm. We note, however, that the share price perked up following the 1Q19 results and is now trading c. 21% higher since the results release (on 29 January), which came out in-line with expectations while the outlook suggested the business' strength ran deep. Nevertheless, it is important for Apple to expand its digital services as it looks to boost revenue in other business segments to counteract slowing iPhone sales and the Services business has been driven to new records thanks to Apple's large and ever-growing ecosystem.
Services revenue, which currently includes the App Store, iTunes, Apple Music, Apple Pay and iCloud, and which is likely to be the segment under which a future streaming service will fall, came in at c. $11bn in 1Q19 (+19.1% YoY and the segment's highest quarterly revenue to date). This accounted for 13% of total revenue in the quarter – three years ago (1Q16) this segment accounted for only 8% of revenue. Apple has also said that Services is on track to double its 2016 revenue by 2020 (1Q19 was the 15th quarter in a row where the segment saw double digit YoY growth).
Services segment growth, 1Q15 to 1Q19 ($mn)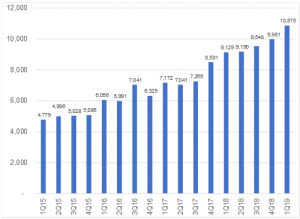 Source: Anchor, Apple
Below, we highlight what Apple is expected to announce at Monday's event:
A video-streaming service: This will likely be the main announcement and, according to Bloomberg, a new video-streaming service would be a rival to Netflix and Amazon Prime video especially and will include access to Apple original programming. The service is expected to include several content partners and original content from Apple (which has production deals with Oprah Winfrey, Steven Spielberg, etc.). Apple already has a slate of 12 TV shows although details around these have been kept secret. Cult of Mac writes that, while earlier reports have put Apple's overall budget at c. $1bn for original television programming, Apple will "blow well past that figure" in total content spending.
Meanwhile, Wedbush analyst Daniel Ives writes that he sees next week's announcement as merely a "drumroll" to something much bigger — which it describes as a major "transformative" content acquisition, "that immediately vaults Apple into the top tier of contenders in the streaming arm's race." Ives has gone so far as to state that 100mn subscribers for Apple's streaming service appears to be a "realistic medium-term goal," given Apple's "massive installed base and unmatched brand loyalty,". The report says if Apple executes "with minimal speed bumps and aggressively acquires content given the company's massive installed base and unmatched brand loyalty," then reaching 100mn subscribers in a 3-to 5-year time frame seems realistic. This could potentially result in as much as $10bn in additional revenue— and serve as one more Apple product keeping customers tied to its ecosystem. While the streaming TV service is a big gamble (in a crowded space), it could be very lucrative if Apple successfully leverages its massive install base. Last year, Morgan Stanley analyst Katy Huberty wrote "… Apple Video could bring in $37bn in media revenue by 2025." Services revenue in 1Q19 stood at $10.9bn.
The video service is likely be integrated into all Apple products (iPhone, iPad, Apple TV, TV app etc.) and include two new features: shows funded, bought or developed by Apple, and programming from outside media companies, according to Bloomberg. Over recent days it's been reported that Apple is pushing for deals with HBO, Showtime and Starz (among the most-popular US premium cable networks) The launch date of the streaming service is likely to be disclosed next week with many expecting it to happen during the US summer (between late-May and mid-June). However, Netflix confirmed on Monday (18  March) that it won't be joining Apple's streaming offering, while Hulu will likely also not be part of the new service, reportedly because it does not want to hand over control of its users' experience or viewing data. Netflix has already stopped allowing its customers to subscribe via the App Store, thus cutting Apple off from a lucrative revenue stream (Netflix is the top-grossing app on the App Store and Apple made $256mn from it in 2018).
A premium news / magazine subscription service: Apple will likely also unveil a news/ magazine service which allows consumers to subscribe to a "bundle" of magazines and newspapers. Magazines are expected to become a key part of the Apple News app, which Bloomberg writes is being redesigned. While Apple plans to sell its video and magazine services separately, it could also offer these at a discount to users who subscribe to multiple services, according to a report on 9To5 Mac, quoting unnamed sources. A user who buys several services is more likely to remain in Apple's ecosystem and continue buying its hardware. The news-subscription service will reportedly be "PDF-based" and work offline. In 2018, Apple bought Texture, a digital magazine platform, which charges $9.99/month for access to 200-plus magazines. Apple has reportedly also been interested in bundling subscription news services.
Apple credit card: Bloomberg writes that Apple's next software update " … sets the stage for an iPhone-connected credit card partnership" with Goldman Sachs "by tweaking the look of Apple Pay in the Wallet app." The credit-card project is code named Project Cookie inside the investment bank, according to an unnamed source. Apple has also invited journalists covering the payments industry to attend Monday's event which might indicate an announcement could happen there.
The three new services discussed above will be the first major addition to the Apple portfolio for consumers since Apple launched Apple Pay in 2014 and Apple Music in 2015.
While the event is expected to be all about Apple's Services segment, some media houses have suggested that minor updates for several Apple products (including iPad Mini, iPad, AirPods, iPod Touch and the launch of its long-delayed AirPower charger) will also happen.