Figure 1: Rand vs US dollar gauge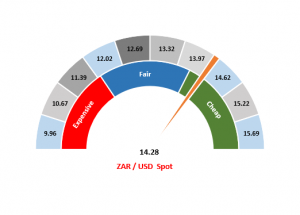 Source: Anchor
We find ourselves facing a world of economic policy by tweet, at least from US President Donald Trump. A single tweet is a maximum of 140 characters yet, in the hands of Trump, it is capable of reducing the market value of global stock exchanges by 2.5% and weakening the rand vs US dollar exchange rate by 1.5%. Trump's latest twitter tirade has reignited the trade war between China and the US, with accusations (by Trump) that China is reneging on some of the deals that had been struck and, as a result, the US has increased tariffs on a number of Chinese goods entering its market. On Monday (13 May), China retaliated stating that duties on 2,493 US goods coming into China will also be increased from 5% to 25%. Meanwhile, bizarrely Trump has also been saying that he has a "feeling" that the talks between the US and China will still be "very successful". We don't really know what "very successful" means, nor when there will be any clarity (or another ambiguous tweet) but, for now, it basically means we are in a risk-off environment and the US economy's long-term potential growth rate is being eroded once again. Stocks are down and emerging market (EM) currencies are weaker, whilst bonds have been a haven or refuge.
Domestically, people have stopped focusing on the SA general election (and its outcome) instead asking what it all means for the country. Much is being made of the shape of the new cabinet as it will be the first glimpse into what President Cyril Ramaphosa's reform agenda will really look like and whether he will rid the ANC (and the country) of Zuma-era rentseekers and compromised individuals. Less of a focus, but equally important, are the parliamentary committees and who is chosen to chair these. We are hopeful, but we are also realists and we know that some balance will likely need to be struck. All of this while the unemployment numbers (due for release later today [14 May]) are likely to look weaker than last quarter's (4Q18's) data.
The rand started this morning (14 May) at R14.28/$1, which is slightly weaker than our fair-value range. However, we are being patient and we have not responded to this weakness, for now.
Figure 2: Actual ZAR/$ vs rand PPP model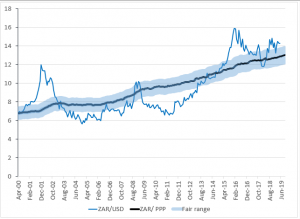 Source: Bloomberg, Anchor