Figure 1: Rand vs US dollar gauge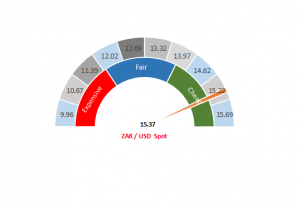 Source: Anchor
It is all about offshore at the moment. The world is concerned about Argentina and the risk of another emerging market (EM) crises after a surprise primary election result saw the country's centre-left opposition leader Alberto Fernández win over 47% of the vote in the 11 August primary. This was a major upset, suggesting he is likely to win the 27 October election against incumbent Mauricio Macri (who won less than 33% of Sunday's vote). Fernandez's running mate, Cristina Fernandez de Kirchner, was the country's populist president before Macri.
The primary election result saw heightened investor fears that populists could replace Argentina's current, more business-friendly government, triggering a drop in the value of the peso, with EM assets globally also coming under pressure on Monday (12 August) as a result. Nevertheless, Argentina bore the brunt of it with its currency closing 15% lower against the US dollar, after having earlier in the day plunged by 30% to a record low vs the greenback. Turkey and India's currencies came under pressure as well, whilst the rand also participated in the sell off. The market remains skittish and big moves in either direction are likely. Meanwhile, China's crackdown on dissenters in Hong Kong is certainly not helping matters.
Locally, President Cyril Ramaphosa once again won the latest battle against the Public Protector, although we highlight that this was widely expected. We note that there seems to be some progress on the Eskom situation, although the road to restitution will be long and fraught with dangers. SA high frequency economic data has been disappointing of late, meaning that the domestic economic outlook is potentially worse than we had been expecting and that the recovery might prove to be slower than anticipated.
The local currency is trading at c. R15.37/$1. In our view this is oversold and we believe that some recovery is to be expected. Still, we caution that markets remain very skittish and events could move our currency either way. We are taking a gradual approach towards reducing our US dollar positions.
Figure 2: Actual ZAR/$ vs rand PPP model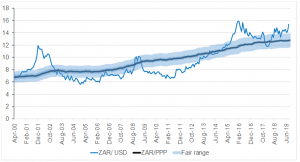 Source: Bloomberg, Anchor