Reuters reports that Alibaba recorded its biggest Singles Day event yet this year with a record $30.8bn in global sales in a 24-hour period (Sunday, 11 November). However, in a press release, Alibaba said that the event's annual growth rate stood at 27%, which would make it the slowest YoY growth in the event's decade-long history.
Alibaba gross merchandise volumes, $mn: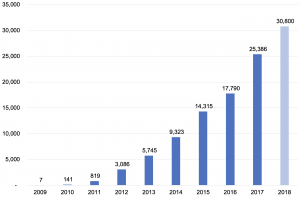 Source: Alibaba
Singles Day, also called "Double 11," is the world's biggest online sales event, with sales far ahead of Amazon's Prime Day and also outstripping the US shopping holidays Black Friday and Cyber Monday combined. The event initially started as a student holiday to celebrate being single, countering Valentine's Day, but has grown into a month-long online shopping festival that peaks with a 24-hour sale on 11 November. This year, the company surpassed last year's full-day sales record of more than $25bn in just less than 16 hours.
Alibaba Singles Day vs Amazon Prime Day: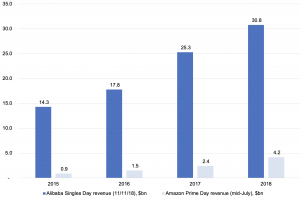 Source: Alibaba
Alibaba's executive vice chairman Joe Tsai addressed the trade war issue head-on in Alibaba's Singles Day press release, saying "I think you have to understand Alibaba and what Alibaba's doing in the context of the long-term secular trend that's developing in China, which is the rise of the Chinese middle class. That trend is not going to stop, trade war or no trade war."