In its 2018 Global Games Market Report, Newzoo tracks 25 listed companies to ascertain which are the top-10 revenue earners in terms of the games these companies sell. The ranking is based on an analysis of annual and quarterly financial reports published by the relevant companies. We note that revenues exclude hardware sales and other non-game sales. Microsoft, Sony, and Nintendo estimates represent all Xbox, PlayStation, and Nintendo non-hardware platform revenues (including Xbox Live, PSN, and Nintendo eShop revenues, respectively).
The top-25 listed companies tracked by Newzoo generated a combined revenue of $50bn in 1H18 – up 12% YoY, but this was also the lowest YoY growth for the first half of a year since 2014. In addition, total games revenue growth from the top-10 earners has been relatively small vs prior years (about 12.3% growth vs c. 30% YoY growth in 2017). While Tencent was the best performer, with $10.2bn in revenue, mobile gaming's muted rise was offset by an impressive console gaming performance. Microsoft, Sony and Nintendo all recorded robust 20% YoY jumps in their respective revenues, and accounted for c. 21% of the total top-10 industry earnings for the period (together the three firms recorded $10.8bn in console revenues). Digital revenues, including subscriptions to PlayStation Plus and Xbox Live, "were an important growth driver," according to the report. Apple and Google's growth, meanwhile, slowed to 18% and 15% YoY, respectively.
Top-10 listed companies by gaming revenue, $bn: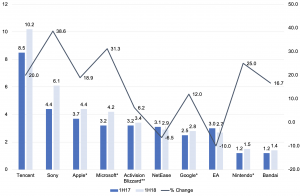 Source: Newzoo 2018
*estimates of game revenue using quarterly earnings reports in which these are not specifically segmented out.
**Includes King revenue as of February 2016, the day that King officially became an Activision Blizzard subsidiary
Despite Tencent landing on top, the report highlighted that China-focused companies are feeling the pinch of that country's game licence freeze. Tencent's 2Q18 earnings marked the first time in more than five years that it did not report double-digit YoY growth. Nevertheless, 1H revenue rose 20% YoY to $10.2bn on the back of strong 1Q18 results. Tencent's 2Q18 revenues increased by 7% YoY vs 33% YoY growth for 1Q18. The challenging regulatory environment in China prevented Tencent from publishing and monetising new games, including the popular PlayerUnknown's Battlegrounds (PUBG) Mobile. Bloomberg also reported this week that, amid the ongoing Chinese crackdown on the videogame industry, Tencent is cutting the marketing for its Tencent Games division. China's gaming industry generates $30bn-plus in revenue and has been hammered this year after regulators froze the approval process for new games (China hasn't approved a new game since March), preventing companies from making money from hit titles.
Tencent's main competitor in China, NetEase (#6), reported a decrease in revenues for 1H18. Due to its dependence on domestic revenues, Newzoo writes that NetEase expects domestic earnings will continue to decline in 2H18. The second half of this year is also expected to be challenging overall for those companies earning most of their revenue from China, "as we expect the full impact of the government's license freeze will become more apparent."
Sony (+39% YoY), Microsoft (+31.3% YoY) and Nintendo (+25% YoY) enjoyed more than 20%-plus YoY revenue growth. Out of the three, Sony recorded the highest YoY growth going from $4.4bn to $6.1bn. Like Nintendo, Sony continued with a barrage of high quality first-party titles including games like Detroit: Become Human and God of War performing extremely well.
Meanwhile, Microsoft's growing digital revenues were made up (for the most part) of third-party games with digital sales, in general, a major growth driver for the company thanks to the firm's focus on Game Pass and making its Xbox One X perform better with third-party games. Revenue from Xbox Live is also on the rise. According to the report, Xbox One X is "slowly becoming the console of choice" for users who want the highest quality graphics and detail for their third-party games.
Slower mobile game revenue growth directly impacted Apple (#3) and Google (#7) app stores, which grew by 18% and 15% YoY, respectively. North America and Japan were major revenue drivers for Google, while for both Apple and Google alike, non-game app revenues grew faster than mobile game revenues in 1H18. The App Store forms part of Apple's services segment which has recorded impressive growth over the past few quarters and this segment now accounts for c. 16% of Apple's overall revenue.
Activision Blizzard's (#5) mobile division, King recorded record-high 1H18 results, but Newzoo writes that a "downward trend is visible after it peaked" in 4Q17.
Nintendo grew its revenue by 25% from $1.2bn to $1.5bn mainly on the back of its lineup of strong first-party titles performing very well. The company also hasn't significantly discounted any of its first-party games from when the Switch released, leading to higher revenue per unit sold