On the JSE, resource counters took a knock with the Resi10 down 1.5% MoM (+14.2% YTD), while industrial and financial shares outperformed in November. The 7% MoM gain in its share price saw Naspers, which accounts for c. 20%-plus of the JSE's total market cap, almost singlehandedly drive the JSE to new heights. This on the back of impressive results from Tencent, the Chinese company in which Naspers has a c. 35% stake, and its own strong interim results which buoyed the Naspers share price. The FTSE JSE All Share Index breached the 60,000-points mark for the first time in its history to close at a record high of 61,211 on 21 November, before retreating to end November at 59,772.8 points – still a 1.3% MoM gain. YTD, the All Share is up 18.0%. While the rand rose 3.0% MoM against the US dollar, local currency weakness earlier in November (the rand dropped to a one-year low against the greenback at one stage) buoyed some rand-hedge industrial counters with the Indi-25 closing the month 1.5% higher (up 29.2% YTD). However, the Fini-15 Index was the star performer in November, jumping 5.7% MoM (+8.1% YTD), as the big-four banks put in solid performances for the month.
In a widely expected move, S&P downgraded SA's credit ratings by one notch to a BB+ (the highest junk rating) local currency rating and to a BB foreign currency rating, both with a stable outlook. Moody's, meanwhile, put SA's Baa3 rating (the lowest investment-grade rating) on review stating that it requires more information (which may be event-dependent) to make a decision. The immediate impact of the S&P move is that SA will be removed from the Barclays Government Bond Index, triggering an estimated R50bn of bond sales. However, we remain part of the Citibank World Govt Bond Index by virtue of the Moody's rating.
Political risk persisted, as the outcome of major events (including the ANC elective conference in December, next year's budget and resolving the dire situation at stateowned enterprises [SOEs]) remained uncertain. The impact of elevated political uncertainty following yet another cabinet reshuffle and a disappointing medium-term budget policy statement (MTBPS) in October also continued to weigh on the minds of investors.
On the economic data front, there was some surprising upbeat news in the form of stronger-than-expected retail sales, which rose by 5.4% YoY in September, after increasing by a downwardly revised 5.4% in August. Reuters consensus forecasts had expected a 4.5% YoY rise. The better-thanexpected number created a glimmer of hope that the local economy might have done better in 3Q17 than was initially expected. The positive print also boosted most of the major local retailers, driving industrials higher. Consumer inflation for October, at 4.8% YoY (from 5.1% in September), was inline with market's expectations, while October private sector credit extension (PSCE) growth, at 5.4% YoY (vs September's 5.6% growth), was weaker than expected. The SA Reserve Bank's (SARB's) monetary policy committee (MPC) unanimously decided to keep rates on hold at its meeting in November. The SARB marginally lifted its 2017 growth forecast to 0.7% from 0.6% previously, while lowering its 2018 and 2019 forecasts from 1.3% to 1.2% and from 1.7% to 1.5%, respectively.
Coronation
Coronation… Material slowdown in net outflows:
During November, Coronation Fund Managers Ltd reported FY17 results, with the most notable takeaway being a material slowdown in the net outflows, with net outflows being a key contributor to the Group's deterioration in earnings momentum in the recent past. With assets under management (AUM) having tracked sideways for the best part of 3 years, and performance fees largely out of the earnings base, we believe investors have an opportunity to invest in Coronation at a low point in its own business cycle, although admittedly at a late stage in the global business cycle.
The graph below highlights the net outflows which, while still meaningful as a percentage of opening AUM for the year, displayed a material slowdown in the second half:
Figure 1: Coronation net flows progression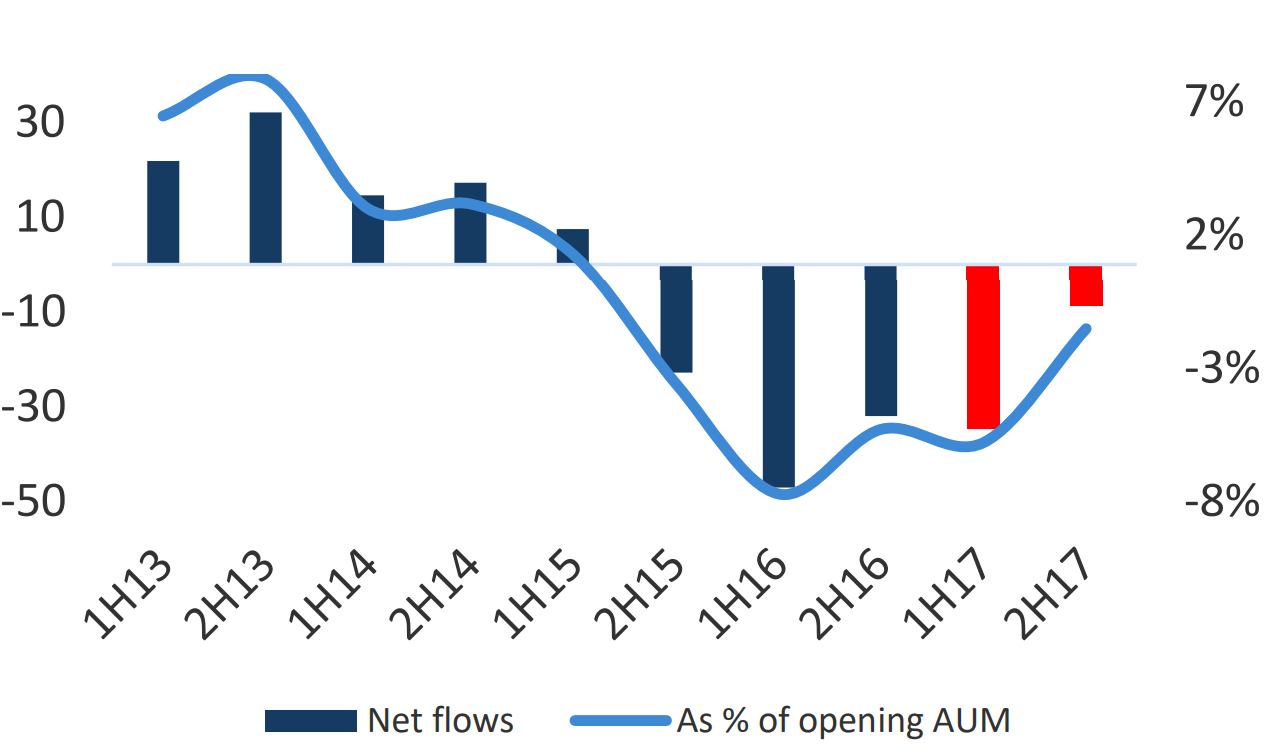 Our base case is that flows will stabilise, with outflows netting off with inflows next year. A commendable investment performance (both domestically and offshore) and the decision to re-open previously restricted mandates to new investors give us comfort in this assumption. We are forecasting 14% earnings growth for the next year with a net zero-flow expectation and 10% YoY growth in AUM (markets would have to decline between now and September for this to be at risk). Assuming 14% YoY earnings growth, Coronation is trading on a forward 14.5x PE and a 7% dividend yield.
Naspers (+7% MoM)
Naspers has almost single-handedly driven the local equity market to new heights, accounting for more than half of the 3% return from the SWIX for November. The newsflow driving gains this month was the release of Tencent's 3Q17 results. Tencent delivered 45% YoY growth in non-GAAP EPS, beating consensus expectations by 5%. As a result, Tencent's share price has risen by 17% during the month, driving Naspers higher. A key feature of Tencent's result was the extent to which the Group's "other revenue" has continued to grow at a very strong pace – despite a much higher base. This category – which grew 140% YoY – includes payments and cloud services and highlights the extent to which Tencent continues to reduce its reliance on its value-add services ([VAS], largely gaming) segment. NonVAS revenue now accounts for 35% of revenue, with online advertising constituting 17%. Interestingly, on the Group's 843mn monthly active users (MAUs), we calculate advertising expenditure to equate to revenue per user of $8 – this is well below what Facebook is achieving at about $19. This suggests to us that there remains meaningful scope for further monetisation. Nonetheless, following such strong gains, Tencent's valuation at a forward 40x P/E (it has only been this high on four other occasions in the past ten years) is now becoming a rising risk factor for Naspers' investment thesis. Conversely, Naspers itself has lagged Tencent somewhat and is now trading at a 27% discount to just its stake in Tencent, and a 36% discount to our estimate of its full sum-of-the-parts. These are close to all-time lows for its valuation relative to Tencent. Naspers' own results suggest compelling reasons to expect the discount to narrow, with development spending appearing to have peaked (-5% in 1H18) and the Group's ecommerce assets rapidly moving toward monetisation. Classifieds, in particular, were a strong point, with OLX's number of monetising markets rising to 14 and the EBITDA margin in these markets collectively gaining 900bps to 54%. OLX is now profitable ($55mn in 1H18) and we expect it could make >$300mn trading profit within 2-3 years.to be unlocked.
Figure 2: Naspers discount to its holding in Tencent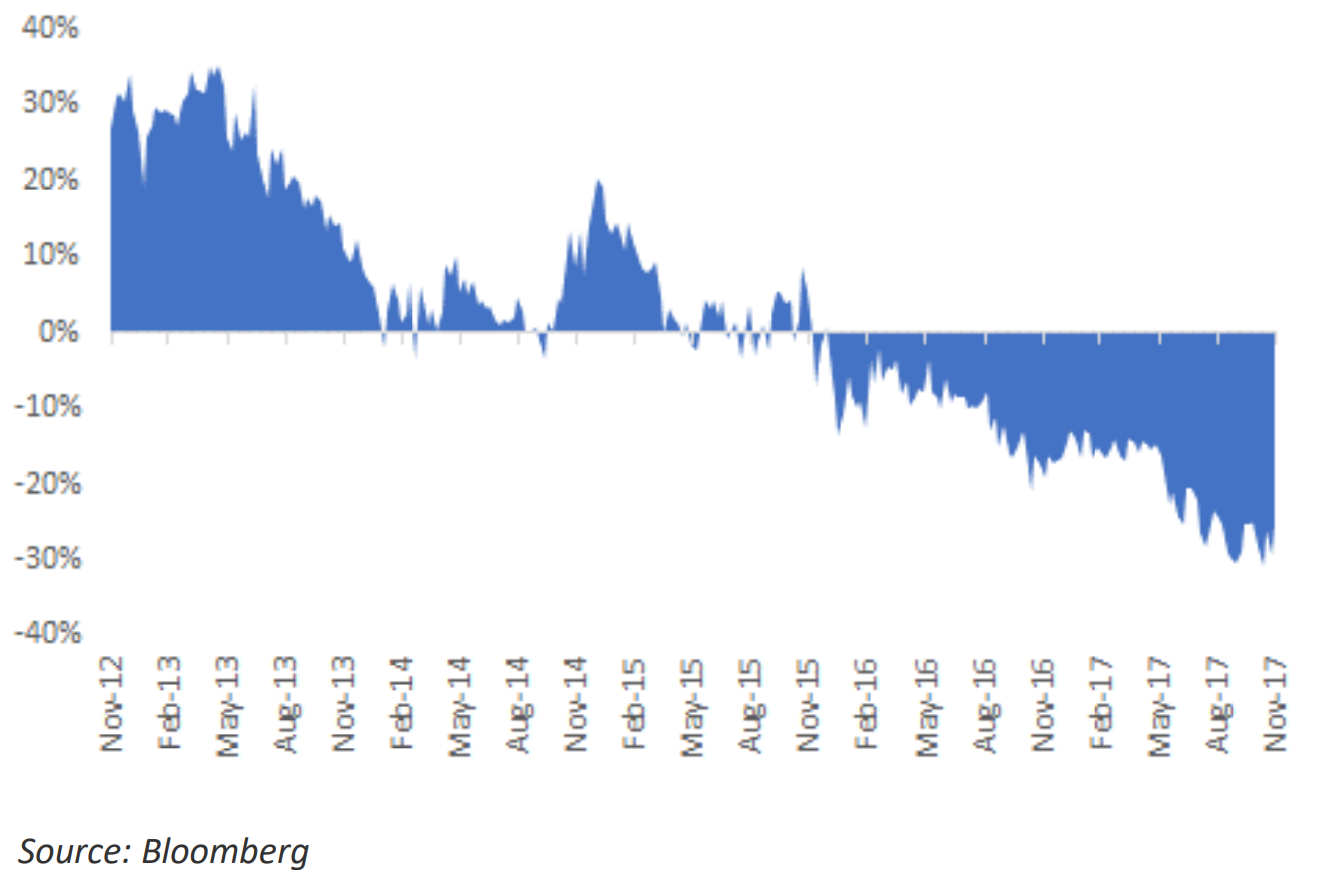 We remain holders in Naspers given the compelling growth profile of all its key platforms (of which Tencent is the key), but we have trimmed our exposure recently given the valuation risk emerging in Tencent.