US President Donald Trump forced his way back to taking centre stage for markets in March. The month started with Trump's introduction of tariffs on steel and aluminium imports (later in March many of the US allies were granted exemption from these tariffs) and then, in a more direct rebuke to China, Trump announced a 25% tariff on $50bn of Chinese imports, largely a punishment for what he perceived to be the theft of US intellectual property by China. The aggressive approach to trade negotiations saw Economic Advisor, Gary Cohn, resign. Trump then fired Secretary of State Rex Tillerson, who was seen as a potential impediment to Trump's approach to trade negotiations. To add to the growing list of casualties in the Trump administration, the Deputy Director of the FBI, Andrew McCabe, was also fired as was H.R. McMaster, the National Security Advisor.
US trade with China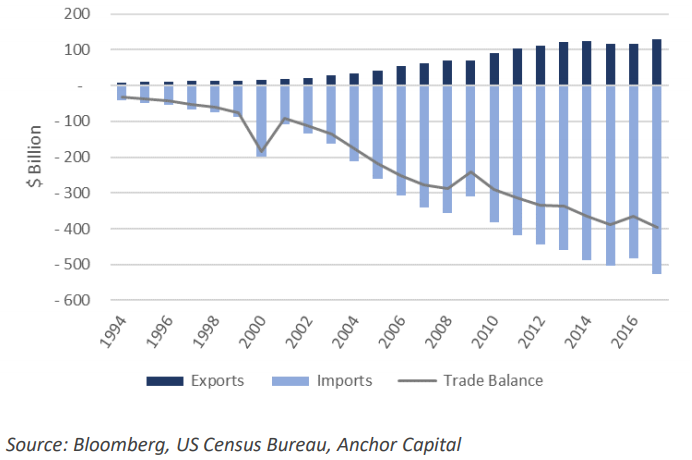 The US reported inflation numbers in-line with expectations during March and this paved the way for the US Federal Reserve (Fed) to raise interest rates (as expected) at their meeting on 21 March. The subsequent press conference revealed that the median Fed member expects another two hikes this year and three more next year (which is at least two hikes more than the market is currently pricing in). Despite the rate hikes in the US, risk aversion was enough to keep a lid on bond yields. US 10- year government bond yields ended the month 0.1% lower, although this was more than offset by a 0.15% rise in investment-grade credit spreads, which sold off along with risk assets.
Within equity markets there were few places to hide, though yield-sensitive sectors like consumer staples performed relatively better. Real estate stocks also performed relatively well as yields compressed, while financial companies, which have benefitted from higher rates, were the worst-performing sector. Large technology companies also had a poor month – Facebook was responsible for its own demise as news surfaced of its questionable use of subscriber data, leaving the stock down over 10% for the month. Apple was a casualty of the trade wars with its supply chain likely to suffer from the tariffs and Amazon found itself in Trump's crosshairs – he again raised concerns that Amazon was abusing the US postal system, putting US retailers out of businesses, and not paying enough US taxes – Amazon ended March down 4%, though the share is still up 23% YTD.
FAANGs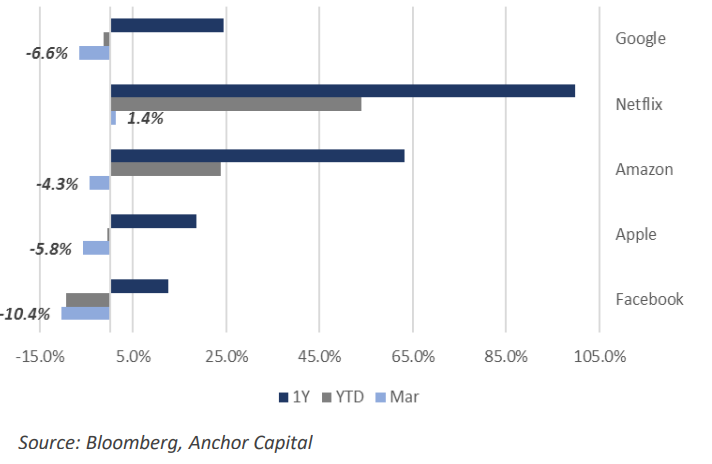 Emerging market equities were not immune to the sell-off and Chinese stocks in particular were affected by the trade wars. Brazilian and Russian stock markets performed relatively better, helped somewhat by their large exposure to oil companies – Brent crude oil was up 7% in March after surprisingly large drawdowns in US crude stockpiles.
In currency markets, the US dollar continued to grind lower, while sterling got a boost from progress in Brexit negotiations which saw the EU and the UK agree to favourable terms regarding the post-Brexit transition period afforded to companies.