enX's results for FY'17 mark the first full reporting period in which the group presents itself in its new form after completing the transformational acquisition of Eqstra's Fleet Management & Industrial Equipment businesses. Management have restructured the group's balance sheet to align the capital structure with core operations by unbundling enX's resultant investment in Extract to shareholders – with a more flexible balance sheet and a focused management team now well-positioned to grow the business.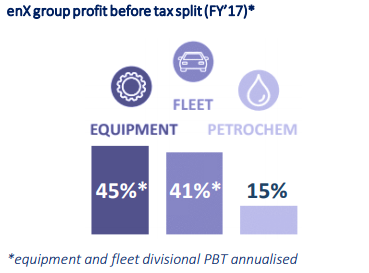 UK to lead growth in equipment division
The Industrial Equipment division – which includes the sale, leasing & servicing of materials handling equipment (mostly forklifts & cranes) – is a cash generative business with revenues that are largely recurring. The existing fleet in the field consists of around 13000 units, with 8500 in SA and 4500 in the UK.
A strategic relationship with Toyota is driving share gains in a growing South African market, and the impending acquisition of several forklift dealerships in the UK is expected to result in meaningful growth of this division.
Value-added services a focus for Fleet Management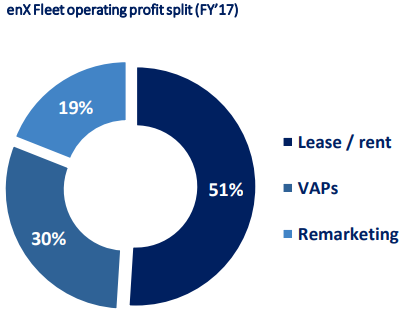 The Fleet Management business has been successfully transformed from a purely balance sheet business into a more profitable value-added offering, with higher-margin value-added products (VAPS) now accounting for over 30% of revenues. Also worth noting is that the business is currently realising a gross margin of 8 – 10% on the residual value of end-of-life vehicles – which is evidence of highquality earnings and a sustainably profitable business model.
The recently implemented Quest ERP system, which aggregates fleet management data to allow for the development of new VAPs, will continue to drive the growth of the revenue opportunity per lease. The VAPs portfolio includes services such as insurance & claim management, GPS tracking, fuel management, roadside assistance and vehicle maintenance management.
enX Fleet's revenues are largely recurring by virtue of contractual relationships that extend over 4 to 5 years. Importantly, the business does not bear base interest rate risk, where any increase in the base rate is passed on to the customer contractually.
Excess capacity in Petrochemicals division an opportunity
The Petrochemicals division blends and / or distributes several types of lubricants under contract for multiple global brands (e.g. ExxonMobil, eni, Puma). ExxonMobil in turn is a specified maintenance product for brands such as Caterpillar, Volvo & Toyota. This results in a stable and recurring revenue stream.
Despite now standing as the largest independent lubricant blender in Sub-Saharan Africa, management point out that the division still has excess capacity at plant level which can be leveraged to drive volume growth over time.
The chemicals product portfolio is also being expanded, with polypropylene being the most recent inclusion.
Centralised approach to capital allocation
Both the Fleet Management and Equipment divisions generate healthy returns (RoE of 20% & 17% respectively), with Fleet Management in particular having been starved of growth capital within the previous parent company Eqstra. New parent co. enX has the necessary balance sheet capacity to fund both organic and "bolt-on" acquisitive growth for these divisions – with management adopting a centralised capital allocation approach across the group.
The group's capital structure is now management's highest priority, and a definite plan is in place to improve the group's current credit rating from BBB to A. This could reduce group borrowing costs by up to 100bps, yielding an annualised after-tax financing cost saving of R35m per annum. To put this into context, this saving would add 10% to our estimate of the group's FY'18 NPAT – however this would be realised over time as the group's debt is refinanced at the lower rate.
Management are targeting a structural net debt:EBITDA ratio of less than 2.0x (currently 2.34x), which once achieved will allow for the initiation of a dividend. The targeted timeframe for this deleveraging process is 24 months.
Valuation
enX trades at a material discount to its peer group, which is likely a function of its smaller relative size (liquidity) and the fact that it is still an early-stage story. We are of the opinion that once the business demonstrates growth off of the newly established base, and as the balance sheet is deleveraged and dividends become a consideration – the share will rerate upward to trade inline with peers. Given forecasted FY'18 HEPS of 201c, and peer group forward earnings multiples of 9x to 12x, this would imply a share price of R18 to R24 in 12 months from now.
The business is leveraged to a positive economic outcome in South Africa (not our base case), and should the country's growth outlook improve we would look to revise our earnings growth forecast upward.