Esports or electronic sports is competitive video gaming which takes the form of organised, multiplayer competitions between professional players. The most popular games in eSports are team-based multiplayer games such as first-person shooter or multiplayer online battle arena games. An audience either watches the event live online or through gaming broadcasters or by going to an arena where the event is taking place. The eSports industry started small (it has been around since the 1990s) but began to gain traction a few years ago, benefitting from new video game content, products and global gaming events. It is now on its way to becoming a billion-dollar behemoth.
Global eSports market revenue, $mn: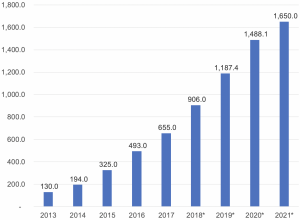 Source: Statista, Anchor, *estimates
Statista valued the global eSports market at c. $655mn in 2017, with its research estimating that global eSports market revenue would reach $1.65bn in 2021. According to Statista c. 80% of revenues came from sponsorships and advertising in 2017, and the rest from eSports betting, prize pools, tournaments, merchandise and ticket sales. A June article in Fortune set out the different components of eSports revenue as follows:
Sponsorship (40%): The biggest revenue contributor currently which, until recently, was driven largely by tech or gaming peripherals companies.
Advertising (19%): The second-largest contributor with components manufacturers and energy drinks (such as Red Bull) vying for advertising rights.
Media rights (18%): These are revenues paid by broadcasters who own the rights to broadcast live games (Twitch [an Amazon subsidiary] and YouTube Gaming are examples). For the most part games are watched online (PCs) or on mobile devices but several TV and internet companies have started to compete for the rights to broadcast these events. According to Forbesmedia rights are growing the fastest and are projected to be more than $320mn by 2021, which would move it to the second-biggest source of revenue behind sponsorships.
Game publisher fees (12.5%):These revenues are paid by gaming publishers to host tournaments.
Tickets and merchandise(10.5%): Generated from ticket sales to eSports events and the sale of eSports teams and game publishers-related merchandise.
In 2017, 588 major eSports events were held, generating c. $59mn in ticket revenues (up from $32mn in 2016). At the same time, the total prize money of all eSports events held in 2017 broke the $100mn mark for the first time to reach $112mn. Newzoo expects global eSports revenues to reach $906mn this year, with North America accounting for $345mn of the total and China for $164mn. By region (in revenue terms), Asia and North America represent the two largest eSports markets. However, in terms of eSports enthusiasts, Asia Pacific accounts for 53% of the total, while North America accounts for 14%, Europe for 18% and the rest of the world for 15%. In its 2018 Global eSports Market report, market research firm Newzoo, writes that total eSports revenue rocketed c. 33% YoY from $493mn in 2016 to $655mn in 2017. The firm forecasts that total revenue will exceed $900mn this year – impressive 38% YoY growth.
Leading eSports markets globally by sales revenue: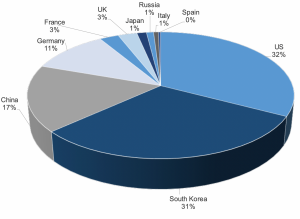 Source: Statista, Anchor. Note 2016/2017 data
While most eSports viewing occurs online this is also changing fast as more and more TV and internet companies have started to compete for the rights to broadcast events. YouTube Gaming and Twitch saw significant growth in 2017 and with other big players (such as Facebook) entering the market it bodes well for the space's near-term growth prospects. In July, Activision Blizzard signed a multi-year deal with The Walt Disney Co. (Disney) to broadcast its Overwatch League (the deal covers multiple Disney-controlled networks including ESPN, Disney XD and ABC).
With the launch of Activision Blizzard's Overwatch League, franchising (at a cost of c. $20mn per slot), has picked up in eSports. This also led to Twitch paying $90mn in 2018 for exclusive distribution of the league – the biggest in eSports history. Since 2015, Twitch has seen a 21.3% compound annual growth rate in its viewership numbers and, according to Forbes, in 2017 alone, viewers watched c. 6bn hours of content on Twitch. With viewership growing by double-digits, prize money has also reportedly grown by c. 30% p.a. Newzoo estimates that the global eSports audience will reach 380mn this year with the average revenue per eSports enthusiast standing at $5.5 – up 20% YoY.
In an October 2018 article, Forbes identified the 12 most valuable eSports companies in the world (included are only companies that actually compete in gaming excluding game publishers and arena builders). Among these professional eSport companies, Cloud9 was the most valuable, worth $310mn, in part due "to its success across a wide variety of games." Cloud9 has 11 teams – second to Team Liquid with 14 teams. Cloud9 also ranked second in terms of revenue to Team SoloMid (TSM) at $25mn. As can be seen in the table below the average valuation for a top eSports company is currently c. 13.8x revenue, indicating a high demand for these assets at premium valuations (we note that Fortune based the data below on valuations applied during each company's most recent capital raise, comparable eSports transactions and prospects).
The most valuable eSports organisation globally: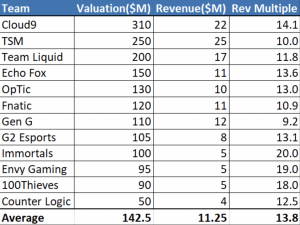 Source: Fortune, 23 October 2018